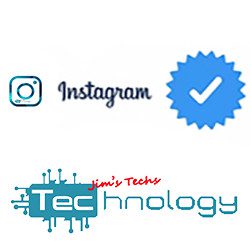 Get Verified on JTInstagram: Join the JimTechs Community Today! Are you tired of scrolling through your Instagram feed, seeing verified accounts, and wondering how they got that coveted badge? Well, look no further! The JimTechs Community has some exciting news for you – a FREE JTInstagram verification badge exclusively for our amazing users!
To be eligible for this amazing offer:
We kindly ask you to fulfill a few requirements.
Firstly, we would love it if you could share this reel ( https://www.instagram.com/reel/Co-KkzFAcmt/ ) on your Instagram story for 24 hours and add a clickable link to our website ( https://jimtechs.biz/ ).
Secondly, we would like you to join us on all of our social media platforms. By following us on Twitter, Telegram, Instagram, Facebook, and Tiktok, you will be part of an amazing community that values respect and friendliness.
Once you have completed these steps, simply send proof of everything to this number https://wa.me/qr/VH6DJKKYFKTNE1, including a screenshot of the views on your story, just to be sure that you have shared it with your followers. We will then verify you on JTInstagram+! And once the 24 hours are over, you will remain verified as long as you keep following us and complete the steps as we have said.
We understand that becoming verified on Instagram can be a daunting task, but we want to make it easy and accessible for everyone in our community. By following these simple steps, you can join the ranks of verified accounts and enjoy the benefits that come with it.
We are thrilled to offer this opportunity to our amazing users and hope that you take advantage of it. By becoming verified on JTInstagram, you will not only gain a sense of accomplishment, but you will also be part of a supportive and friendly community. So what are you waiting for? Join us and become verified today!
Get Verified on JTInstagram: Join the JimTechs Community Today!