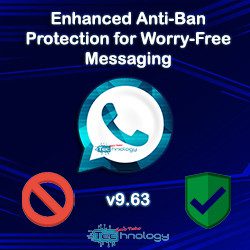 JTWhatsApp v9.63: Enhanced Anti-Ban Protection for Worry-Free Messaging
Introduction: We're excited to announce the latest update for JTWhatsApp+ JiMODs Jimtechs Editions – version 9.63!
With added anti-ban protection and a fix for the 1-hour ban issue, this update ensures a more secure and uninterrupted messaging experience. In this blog post, we'll explore these new features and guide you through the update process.
What's New in JTWhatsApp v9.63?
Enhanced Anti-Ban Protection: The developers have worked tirelessly to improve the app's anti-ban measures, making it even safer to use without fear of getting banned.
Fixed 1-Hour Ban Issue: Some users reported a 1-hour ban issue in previous versions. The new update addresses this problem, ensuring a seamless messaging experience for all users.
Updating to JTWhatsApp v9.63
To update your JTWhatsApp to the latest version, follow these simple steps:
Visit the official JTWhatsApp v9.63 Jimtechs Editions page and download the updated APK file.
Before installing the new version, ensure you've backed up your chats. Follow the backup guide in this Instagram reel: How to Backup Your WhatsApp Chats
Uninstall the current version of JTWhatsApp from your device.
Locate the downloaded v9.63 APK file in your device's file manager and install it by following the on-screen prompts.
Open the app, verify your phone number, and restore your chats from the backup you created earlier.
Enjoy the updated features, including enhanced anti-ban protection and the fix for the 1-hour ban issue.
Preventing Bans While Using JTWhatsApp
To make the most of JTWhatsApp's anti-ban protection, follow these best practices:
Avoid spamming: Refrain from sending messages to multiple users simultaneously, as this may be considered spam and could lead to a ban.
Use updated versions: Always update your app to the latest version, as developers continually work on improving security and anti-ban features.
Follow WhatsApp guidelines: Adhere to the platform's terms of service and community guidelines to minimize the risk of getting banned.
Conclusion
With the latest JTWhatsApp v9.63 Jimtechs Editions update, you can enjoy an even more secure and worry-free messaging experience. Update your app now and benefit from the enhanced anti-ban protection and the fix for the 1-hour ban issue. If you have any questions or need further assistance, feel free to visit our website or reach out to our support team.
Keywords: JTWhatsApp, anti-ban protection, v9.63, Jimtechs Editions, update, 1-hour ban issue
JTWhatsApp v9.63: Enhanced Anti-Ban Protection for Worry-Free Messaging
WhatsApp+ JiMODs v9.63 Jimtechs Editions – JiMODs
Jimtechs (@jimtechs.biz) • Instagram photos and videos
WhatsApp+ JiMODs v9.63 Jimtechs Editions – JiMODs Modded Apps