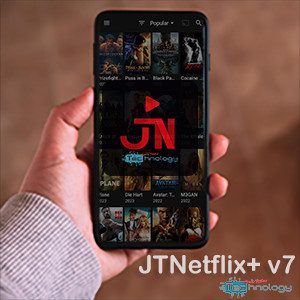 Redefine Streaming Experience JTNetflix+ JiMODs Editions Dive into the world of JTNetflix+ JiMODs Jimtechs Editions, your newest companion in the realm of digital entertainment. This high-powered video streaming application, specifically engineered for Android devices, is set to redefine your viewing experience.
An Ocean of Choices
Envision an expansive universe of movies, TV shows, and series, all accessible at your command. JTNetflix+ JiMODs Jimtechs Editions opens up a world of entertainment, offering you a rich collection of content in numerous genres and languages. Say goodbye to the tedious search for quality content, and get ready for a seamless streaming journey.
Casting Magic on Your Screens
Ever dreamt of streaming your favorite shows on the big screen without a hassle? JTNetflix+ JiMODs Jimtechs Editions supports Chromecast, transforming your streaming dreams into reality. Share your favorite content on the big screen and turn your living room into a home theater.
Curation at Its Best
With JTNetflix+, you are in control. The app allows you to tailor your own personalized list, so your favorite content is always just a click away. Our user-friendly interface ensures that you spend less time navigating and more time enjoying your preferred shows and movies.
User Privacy and Legalities
We understand that navigating the legality of streaming services can be tricky. Therefore, we want to assure you that JTNetflix+ v6.0 JiMODs Jimtechs Editions operates within the bounds of the law. We do not host any content on our servers, but rather, we guide you to where the content resides. Your privacy and data security remain paramount to us.
A New Era in Streaming Services
With JTNetflix+ JiMODs Jimtechs Editions, we're not just offering a streaming service. We're providing a comprehensive entertainment experience. From diverse content to customizable viewing, we're setting a new standard in the world of digital entertainment.
What's Brewing in JTNetflix+ JiMODs Jimtechs Editions?
Stay tuned to find out more about the exciting new updates in our latest version. We're continually refining our platform to provide an unparalleled streaming experience.
Experience a new wave of digital entertainment with JTNetflix+ JiMODs Jimtechs Editions today!
Redefine Streaming Experience JTNetflix+ JiMODs Editions
JTNetflix+ v7.0 JiMODs Jimtechs Editions – JiMODs
JiMODs – Whatsapp+ JiMODs [ Jimtechs Edition ]