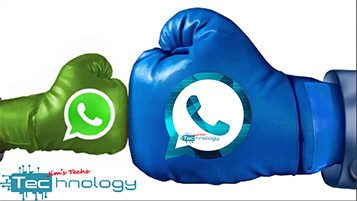 WhatsApp JiMods vs. Official WhatsApp: Group Features Comparison
Introduction: WhatsApp groups are an essential tool for connecting with friends, family, and colleagues. The official WhatsApp app offers various features to make group communication more efficient, as highlighted in their blog post, "Getting more out of groups on WhatsApp". However, WhatsApp JiMods takes these features to the next level. In this blog post, we'll compare the group capabilities of the official WhatsApp app and WhatsApp JiMods to help you make the most of your group messaging experience.
Official WhatsApp Group Features
Admin Controls and Group Settings
As detailed in the official WhatsApp blog, the app offers robust admin controls and group settings. Admins can restrict who can change the group's subject, icon, and description. They can also remove admin permissions and protect themselves from being removed by other admins.
Group Catch Up
WhatsApp's Group Catch Up feature allows you to quickly catch up on messages that mention or reply to you by tapping on the "@" button in the bottom right corner of the chat.
Participant Search
The Participant Search feature in official WhatsApp makes it easy to find anyone in a group by searching for participants directly from the group info screen.
WhatsApp JiMods Enhanced Group Features
Increased Group Member Limit
WhatsApp JiMods allows you to add more participants to a group, surpassing the official app's 256-member limit. This feature is ideal for large communities and organizations that require more extensive communication capabilities.
Advanced Admin Controls
In addition to the standard admin controls available in the official app, WhatsApp JiMods offers advanced options. Admins can prevent members from sending messages or media, restrict forwarding within the group, and more. This allows for greater control over the group environment and better management of group interactions.
Custom Group Themes
With WhatsApp JiMods, you can personalize your group chats by applying custom themes. This feature enables you to give your group a unique look and feel, setting it apart from standard WhatsApp groups.
Auto-Reply for Group Messages
WhatsApp JiMods  features an auto-reply function for group messages, allowing you to send automated responses based on specific keywords or phrases. This feature can be particularly useful for businesses and organizations that need to provide quick answers to common questions.
Conclusion: Unlock the Full Potential of Group Messaging with WhatsApp JiMods
While the official WhatsApp app offers a range of group features, WhatsApp JiMods enhances these capabilities, providing users with more control, customization, and functionality. By upgrading to WhatsApp JiMods , you can make the most of your group messaging experience and stay better connected with your friends, family, and colleagues.
WhatsApp JiMods vs. Official WhatsApp: Group Features Comparison
WhatsApp+ JiMODs v9.63 Jimtechs Editions