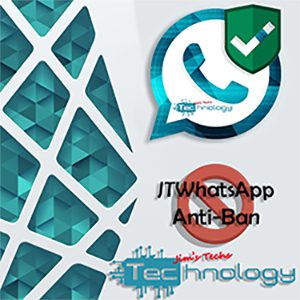 Overcome WhatsApp Bans with JTWhatsApp Guide Introduction: Are you experiencing a ban on your WhatsApp account? Fear not! We've got the perfect solution for you – JTWhatsApp+ JiMODs Jimtechs Editions. In this blog post, we'll guide you through a clean installation process to ensure that your account is 100% ban-proof. But first, let's take a quick look at what makes JTWhatsApp stand out.
Why Choose JTWhatsApp+ JiMODs Jimtechs Editions?
Step-by-Step Guide to a Clean Install of JTWhatsApp
Before diving into the clean installation process, it's essential to back up your WhatsApp chats to avoid losing any valuable information. Follow the guide in this Instagram reel for a seamless backup process: How to Backup Your WhatsApp Chats
Step 1: Uninstall the Current Version of WhatsApp or JTWhatsApp First and foremost, you need to uninstall the existing version of WhatsApp or JTWhatsApp from your device. This step is crucial to ensure that the new APK files are written correctly during the clean installation.
Step 2: Download the Latest Version of JTWhatsApp Next, visit the official JTWhatsApp+ JiMODs Jimtechs Editions page and download the latest version of the application.
Step 3: Install the JTWhatsApp APK Once you've downloaded the APK file, navigate to your device's file manager and locate the APK file. Click on it and follow the on-screen prompts to install JTWhatsApp on your device.
Step 4: Verify Your Phone Number After installing JTWhatsApp, open the app and enter your phone number. You'll receive a verification code via SMS. Enter the code in the app to verify your account.
Step 5: Restore Your Chats from Backup Upon successful verification, you'll be prompted to restore your chat history from the backup you created earlier. Tap on "Restore" and wait for the process to complete. Once done, all your chats will be restored and available in the newly installed JTWhatsApp.
Step 6: Customize Your JTWhatsApp Experience Now that your chats are restored, it's time to customize your JTWhatsApp experience. Explore the incredible themes and enhanced features mentioned in our previous posts, and make the app truly your own.
Step 7: Enjoy a Ban-Proof WhatsApp Experience With JTWhatsApp+ JiMODs Jimtechs Editions, you can now enjoy a 100% ban-proof experience, thanks to the latest updates and features. Stay connected with your friends and family without worrying about getting banned ever again.
Conclusion By following these simple steps, you'll be able to do a clean install of JTWhatsApp+ JiMODs Jimtechs Editions and enjoy a ban-proof WhatsApp experience. Remember to back up your chats before uninstalling the app, and follow the installation process carefully. Happy texting!
Keywords: JTWhatsApp+ JiMODs Jimtechs Editions, ban-proof, clean install, backup, WhatsApp ban, restore chats
Troubleshooting Tips and FAQ
In case you encounter any issues during the clean installation process or have some questions, here are some troubleshooting tips and frequently asked questions:
Q: I'm unable to install the JTWhatsApp APK. What should I do? A: Make sure you've enabled "Unknown Sources" in your device's security settings. If you're still having trouble, try clearing your browser cache or downloading the APK file from a different browser.
Q: My chats are not restoring from the backup. What can I do? A: Ensure that you've followed the backup guide correctly and your chat backup file is saved in the appropriate location on your device. If the issue persists, try restarting your device and attempting the restore process again.
Q: I'm facing some issues with the JTWhatsApp app. Where can I seek help? A: Visit the official JTWhatsApp+ JiMODs Jimtechs Editions support page or community forums for assistance. You can also reach out to the developer through their contact information provided on the website.
Q: Is my personal information secure while using JTWhatsApp? A: Yes, JTWhatsApp+ JiMODs Jimtechs Editions prioritizes user privacy and security. The app uses the same end-to-end encryption as the official WhatsApp to ensure your messages and calls are secure.
Q: Can I use both the official WhatsApp and JTWhatsApp on the same device? A: Yes, you can use both apps simultaneously on the same device. However, you'll need to register each app with a different phone number to avoid conflicts between the two applications.
Q: Are there any additional features I should know about? A: Absolutely! JTWhatsApp+ JiMODs Jimtechs Editions offers a plethora of extra features, such as increased file sharing limits, the ability to hide your online status, and customizable privacy settings. Explore the app to discover all the fantastic features that will enhance your messaging experience.
Q: Can I use JTWhatsApp on my iOS device? A: Unfortunately, JTWhatsApp+ JiMODs Jimtechs Editions is currently available only for Android devices. We recommend keeping an eye on the official website for any updates regarding iOS support in the future.
Conclusion We hope this comprehensive guide has provided you with all the information you need to perform a clean install of JTWhatsApp+ JiMODs Jimtechs Editions and enjoy a ban-proof WhatsApp experience. If you encounter any issues or have further questions, don't hesitate to seek assistance from the app's support resources. Stay connected, and enjoy a more secure and customized messaging experience with JTWhatsApp.
Overcome WhatsApp Bans with JTWhatsApp Guide
WhatsApp+ JiMODs v9.63 Jimtechs Editions