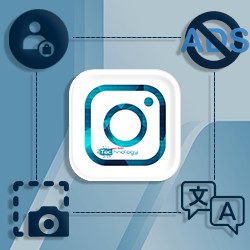 Unveiling the Power of Instagram with JTInstagram Immerse yourself in a revolutionary Instagram journey with the JTInstagram+ JiMODs Jimtechs Editions – a modified, enhanced version of Instagram. Packed with a plethora of advanced features, this Instagram mod is your ticket to the future of social media interactions.
Elevate Your Instagram Adventure
With JTInstagram+ JiMODs Jimtechs Editions, you are empowered to:
Amplify Your Media Management
Seamlessly procure photos, videos, IGTV, and reels in superior quality
Archive media straight to your device for offline enjoyment or dissemination
Tailor Your Storytelling and Privacy Settings
Compile a list of close friends for exclusive storytelling
Conceal your narrative from chosen individuals via the Hide Stories from List tool
Retain live videos in your personal archive for a month using the Save Story to Archive feature
Savor a Streamlined, Enhanced Platform
Banish ads for a clean, uninterrupted experience
Employ Ghost Mode to keep your typing status in DMs under wraps
Experience superior quality for IGTV, photos, reels, and stories
Navigate with ease using intuitive Smart Gestures
Expand Your Social Circle
Tap into your contacts to discover their Instagram accounts with the Discover People feature
Gain an edge over your rivals by leveraging JTInstagram+ JiMODs Jimtechs Editions' unique features, designed to refine and uplift your Instagram experience.
How to Jumpstart Your JTInstagram+ JiMODs Jimtechs Editions Journey
Kickstart your enhanced Instagram experience in four easy steps:
Bid goodbye to any prior installed version of Instagram
Procure the apk file from the official JTInstagram+ website
Incorporate the apk file into your device
Log in to your Instagram account and savor the upgraded journey
Discover the Latest in JTInstagram+ JiMODs Jimtechs Editions
Base update 278.0.0.21.117
Anti-Screenshot tracker
Anti-Reply viewing images
Hide that you listen to the voice messages
All the new Instagram features
French language
 Spanish language
Urdu language
Persian language
 Indonesian language
 Indian language
 Italian language
 Russian language
German language
A shortcut button for JiMODs on the main screen of Instagram
Re-add Story sharing feature
Added Feature of opening external links
Re-Add Copy the bio feature by long pressing on the text
Get ready to redefine your social media interaction with JTInstagram+ JiMODs Jimtechs Editions. Don't miss out on this chance to level up your Instagram game – download today and gear up to embark on a whole new Instagram journey!
Unveiling the Power of Instagram with JTInstagram
JiMODs – Whatsapp+ JiMODs [ Jimtechs Edition ]